"My whole life, I had never had a job or done anything to get money to feed myself and my family. I would just go dig out in [a neighbor's] field then get food for me and my family," Serafina recalls. "For some reason, I thought that was enough, and I thought that's how life was meant to be."
"I did not have any friends or people to share ideas with besides my family," she adds. "All I did was go dig for others, come back home, cook for my family, and sleep. I didn't have time to … go to church."
Yet as a wife and mother of six, Serafina emphasizes that the needs of her children remained at the forefront of her mind: "… my biggest concern was I wanted to put my kids in school."
Then, five years ago, Serafina's neighbors visited her to talk about the savings group they had formed, Let's Fight Poverty. "They came to my house and taught me about the importance of being part of a savings group, and it sounded really interesting, so I decided to join it," she relates.
Since that time, Serafina has fully embraced the vision proclaimed in the group's name, fighting poverty by taking out her first loan to open a stand at the local market, where she sold charcoal, soap, rice, and cooking oil. She's used subsequent loans to move her business from the market to her own premises and to install electricity in her home.
Through her increased income, Serafina's biggest concern has been alleviated: Her children are now enrolled in schools offering high-quality education, and Serafina can afford to purchase the materials they need to be successful there. In 2014, she and her husband were also able to purchase their own plot of land, which now serves as a garden and banana farm.
Today, Serafina shares that her struggles have been replaced by the Lord's provision and hope. A strong believer, she says she prays everyday and loves to share the Gospel with others.
"I want to give back to the community by reaching out to mothers who are living a hard life like I did before," Serafina says. "I have seen God do great things in my life over the past few years, and I think He's a big, great God who can change anybody's situation."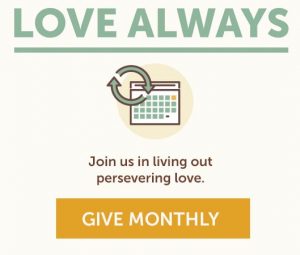 Day in and day out, women like Kerline, Francoise, Serafina, and Johana are extending God's constant, never-failing, always-persevering love to their families and communities.
Through a monthly gift of $36, you'll stand with 22 clients* each year in God's love.
*Based on the average investment per client in the HOPE network in 2017
In Created to Flourish, Peter Greer and Phil Smith explore the Church's call to respond to families living in poverty and discuss practical ways to get involved.