Johana remembers the moment she found out she was pregnant. Her husband was no longer living with her at their home in Comas, Peru, and when she told him, he didn't want anything to do with their baby—financially or otherwise. In this time of isolation, the Lord spoke powerfully to Johana through His Word, reminding her that He would never forsake her:
"Fear not, for I have redeemed you; I have called you by name, you are mine. When you pass through the waters, I will be with you; and through the rivers, they shall not overwhelm you. … You are precious in my eyes, and honored, and I love you." -Isaiah 43:1-4 (ESV)
After giving birth to her daughter, Arleth, Johana was unable to continue the office job she'd held before. Without income and unsure of where to turn, she started making and selling cakes, but the income was hardly enough. Trusting God, Johana prayed for employment that would allow her to be with her baby girl. Then, God led her to Proverbs 13:11: "Whoever gathers money little by little makes it grow." Johana thought of the savings groups offered by her church, a local partner of HOPE International, but she didn't see how saving could make much difference for her situation. Still, relying on God's guidance, she decided to join.
For the first time, Johana began saving small amounts week by week, surrounded by a supportive community. Then, God opened a door she didn't even know was there: By taking a loan from the group, Johana was able to make renovations and start renting out a room in her home. Now, earning steady rental income, Johana reflects, "I think that was the best thing God could have had for me." Today, she praises God that she can provide for Arleth as she cares for her at home.
The nurturing love Johana has for her own daughter overflows into other aspects of her life. Seeing the difficult situations of other single mothers in her savings group, Johana trusts that God brought them into her life for a reason. Stewarding her own challenging past, she shares freely from what she has—whether it's lessons from her personal experiences, reminders of God's promises, or milk and diapers. This year, Johana is also teaching a class through her church for believers who are young in their faith, and she thanks God for entrusting her to help lead others.
As she's witnessed God's steadfast love and provision through challenging circumstances, Johana joyfully extends that same love to others. "I must give thanks to God for these moments that were so difficult in my life," she shares. "If [they] hadn't happened in my life, I never would have come to truly know God."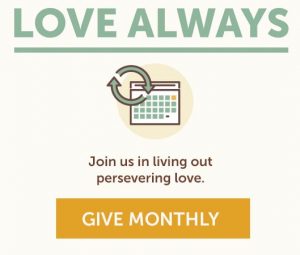 Day in and day out, women like Kerline, Francoise, and Serafina are extending God's constant, never-failing, always-persevering love to their families and communities.
Through a monthly gift of $36, you'll stand with 22 clients* each year in God's love.
*Based on the average investment per client in the HOPE network in 2017
In Created to Flourish, Peter Greer and Phil Smith explore the Church's call to respond to families living in poverty and discuss practical ways to get involved.