At 17 years old in the Republic of Congo, Francoise Koudziomina found herself in a predicament: After discovering she was pregnant, her relationship fell apart, leaving her as a single mother and forcing her to drop out of school.
Just two years later, Francoise's mother died, leaving her as the caretaker for her younger brother, who was the same age as her son. As 19-year-old Francoise scrambled to provide for two toddlers, she made herself a promise: One day, she'd provide for other young, single mothers in situations like hers.
From a young age, Francoise had loved to knit, and in 1997, she opened a business selling clothing for babies and toddlers. With her natural skill, Francoise worked tenaciously to provide for her brother and son. While Francoise was always able to make ends meet, she lived in a state of constant stress about making enough money to meet their needs.
After taking out a loan with a large microfinance institution to invest in her business, Francoise realized that she required more than just financial backing. To really move her business forward, she needed additional training in finance and business practices.
In 2012, Francoise was riding the bus and overheard some other passengers talking about HOPE Congo. Intrigued, Francoise asked for more information, and they shared their loan officer's phone number.
With training from HOPE Congo, Francoise learned how to save money, track her expenses, and diversify her business activities—she even started a second business selling home goods at a market. Then, with a HOPE loan, she was able to travel to Angola to buy pots and pans in bulk.
"Before, when I was not selling very well, I would feel sick," Francoise remembers. "But now, I am more courageous and more optimistic to believe that my God is active. I have more optimism and courage to believe that things will always be all right."
As her businesses have grown, Francois has begun to serve others in the way she dreamed of as a teen, providing opportunities for young single mothers, orphans, and children. As she trains people to knit, she gives them a percentage of the profits from what they create. Many of her trainees have gone on to start their own knitting business, taking loans from HOPE Congo to launch their ventures forward.
In the future, Francoise dreams of traveling to Asia to acquire more inventory for her business. Though the ongoing economic crisis in Congo has made business challenging, Francoise remains confident in her Father, who has always provided for her. "I believe in God," she declares. "I believe even when people are not buying and the sales are not good. If I read the Word of God, I will always get a word that strengthens me."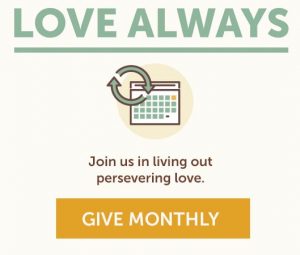 Day in and day out, women like Kerline, Francoise, Serafina, and Johana are extending God's constant, never-failing, always-persevering love to their families and communities.
Through a monthly gift of $36, you'll stand with 22 clients* each year in God's love.
*Based on the average investment per client in the HOPE network in 2017
In Created to Flourish, Peter Greer and Phil Smith explore the Church's call to respond to families living in poverty and discuss practical ways to get involved.