By Dan Williams, Director of Spiritual Integration
A weekly series from HOPE's director of spiritual integration
Over the past three weeks, we've looked at examples of integrating discipleship through the lens of Micah 6:8, asking what it means to love mercy, walk humbly, and act justly. Over the next two weeks, we'll look at the practical steps organizations and individuals can take to more effectively integrate discipleship into their work.
As we've discussed, integrating discipleship means intentionally creating opportunities where hearts can be transformed and developing the means for that transformation to be expressed. So how can this be applied within organizations?
Here are three steps, both practical and possible, whether you work for a faith-based organization or not. As we follow these steps, we'll use a case study from HOPE's work as we walk with clients who can sometimes struggle to repay their loans.
1.    Recognize that every organization disciples its staff towards something.
Managing loan delinquency is a challenge faced by every lending institution. Over the past five years, microfinance institutions in the HOPE network have seen more than 98 percent repayment of loans. While we thank God for the faithfulness of our clients and the diligence of our staff behind these strong repayment rates, a challenging question remains: How do we respond to the 2 percent who don't repay?
Some organizations require excessive collateral on loans and then preach growth targets to their staff and give bonuses based on the number of new loans. This can push staff towards over-indebting clients. Some organizations preach zero tolerance of delinquency and give staff bonuses based on perfect repayment. Unchecked, this can push staff towards harsh collection tactics.
Intentionally or not, each institution instills in its staff values based on the structures they build. And if we don't seek to draw our team toward the organization's core values, we will inevitably be preaching something else to them.
What values are you instilling in your team? What is your team being discipled toward?
2.       Inject biblical truth into value-shaping conversations.
Even though our mission, motivation, and core values offer guidance as to how to respond to clients who are experiencing difficulty in repaying, we recognized that the real conversations shaping HOPE's response to delinquency were happening with loan officers and their managers. So we developed a training on Christ-centered delinquency management where we asked loan officers and their managers to discuss a set of biblical values. How do Christ's model of compassion and biblical exhortations to accountability speak to this situation? What does it mean to be full of truth and grace in this situation?
Injecting biblical truth into these conversations has helped cultivate a desire within our team to respond with Christ's love.
What conversations are shaping the values of your team, and what is the fuel for those conversations?
3.      Build structures to support biblical values
Injecting biblical truth into conversations was just the beginning. HOPE's entire operating structure needed to uphold those values for staff to be able to embody them. When it came to our question of delinquency, this meant reviewing the incentives offered to our staff to create space for compassion, while still expecting high performance. It meant updating the way we assess the credit-worthiness of clients, equipping staff to make wise decisions about potential new loans. And it meant creating strong systems of internal accountability to encourage staff toward loving responses. Without these and other systems built to reinforce the values we preached, our staff may have had great hearts but insufficient means to live out those values.
How are your policies, procedures, and methodologies equipping your team to act?
Learn more about HOPE's Christ-centered approach to poverty alleviation by watching this video.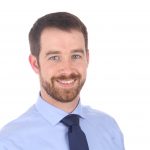 Dan joined HOPE in 2011 and has served in a variety of roles, currently serving as director of spiritual integration. He studied international business at the University of South Carolina and served for 2 1/2 years as a missionary in Niger. He and his wife, Ashley, and daughter, Maelyn, live in Durham, NC, where they are active members of Christ Central Church.
Featured image: A staff member and client of HOPE's partner in the Dominican Republic, Esperanza International