Lina Feria never imagined that her small business selling homemade snacks could grow into a flourishing general store. Yet her story testifies that God can use small loans and persistence to transform a business and a whole family. 
Building a business brick by brick 
When Lina first decided to become a member of The Center for Community Transformation (CCT), HOPE International's partner in the Philippines, she was selling traditional rice cake snacks (called kakanin) that she made at home. 
Although she was not a Christian then, Lina joined CCT because she was curious about their Bible studies. As she got to know staff members and read the Word, she slowly began to learn more about God and eventually gave her life to Him.  
It wasn't long before Lina found herself looking into CCT's financial services, too. In 1998, Lina took her first loan to support her small business. With a second loan, she expanded her inventory to include frozen products—which proved very popular with her customers. As her confidence grew, Lina continued to take out loans to expand her business into a general store with many offerings for her neighborhood.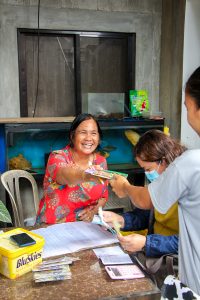 Freedom to be flexible
When her community's needs shifted, Lina switched up her business strategy and diversified her inventory.  
Subsequent loans and training from CCT equipped her to build a physical store; add fishing supplies; and begin selling motor parts, generators, gallons of purified drinking water, and chickens to sell eggs.  
"Materially, the Lord has given us so much," Lina shares. "I am no longer peddling."  
Today, Lina has bold dreams for the future. She and her husband are renting their current store building, but one day they hope to buy land and build a store of their own.  
Whether those HOPE serves are diversifying inventory, raising livestock, tailoring clothes, or growing crops, we've seen the kind of transformation that is possible when men and women use their gifts and talents to provide for their families. 
In this year's Gifts of HOPE catalog, we've highlighted some of the poverty-fighting tools used most commonly by entrepreneurs and farmers that HOPE serves. You can purchase these items symbolically in honor of friends and loved ones as a Christmas gift! 
We invite you to join hands with remarkable men and women like Lina through a Gift of HOPE this Christmas season.